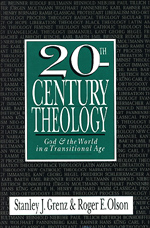 Intervarsity Press
393 pp. (January 1997)
ISBN: 0830815252

20th Century Theology:

God & the World in a Transitional Age


By Stanley J. Grenz and Roger E. Olson

Now in paperback! Stanley Grenz and Roger Olson offer in this text a sympathetic introduction to twentieth-century theology and a critical survey of its significant thinkers and movements. Of particular interest is their attempt to show how twentieth-century theology has moved back and forth between two basic concepts: God's immanence and God's transcendence.

Their survey profiles such towering figures in contemporary theology as Karl Barth, Rudolf Bultmann, Dietrich Bonhoeffer, Reinhold Niebuhr, Paul Tillich, Jurgen Moltmann and Wolfhart Pannenberg. It critiques significant movements like neo-orthodoxy, process theology, liberation theology and theology of hope. And it assesses recent developments in feminist theology, black theology, new Catholic theology, narrative theology and evangelical theology. An indispensable handbook for anybody interested in today's theological landscape.
'This book tells the complex story of modern theology in a critically discerning way--no small feat itself. Second it provides a useful key for interpreting these developments through the biblical dialectic of God's transcendence and immanence--a terrific idea in my view. Third, it demonstrates that evangelical theology is at last coming of age--thank God. No other book offers three benefits of this magnitude at this or any other price.'
--Clark H. Pinnock McMaster Divinity College